Pet Caricature Bust starting as low as $19.95 Free jpg included with artwork
Pet Caricature Body starting as low as $25.00 Free jpg included with artwork
Pet Portraits starting as low as $50.00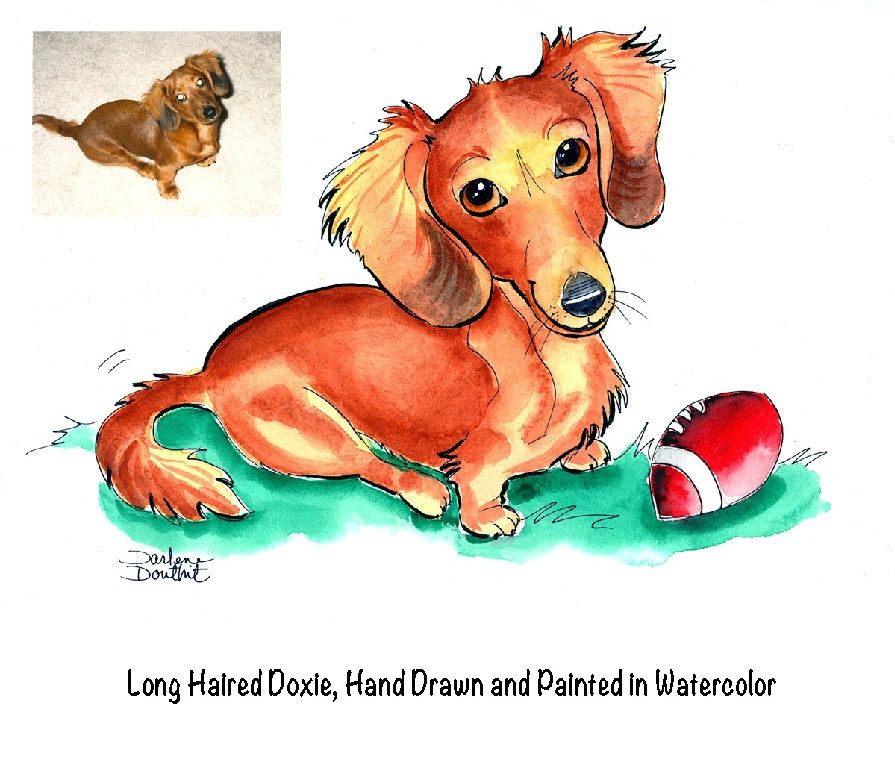 Darlene was column "Cartoon Science Illustrator" for four years for two Award Winning Children's magazines, Boy's Quest and Hopscotch for girls! Darlene has enjoyed teaching classes year round at the Redlands Art Association. Darlene taught at this location since 1992. She has also taught adult workshops, in Illustrating Children's Literature and Japanese Anime Cartooning, since 1999 at the California State University of San Bernardino. She also does many Cartoon Anime Performance demonstrations for Libraries and portrait demonstrations for art associations.
MINI BIOGRAPHY
Since childhood Darlene has had a passion for cartoons and portraiture, with a great love for animals. Portrait artist Jan Kunz, Jessica Zemsky and Al Stine have each been inspirational in instructional in her work. Darlene was personally instructed by such renowned wildlife artist as: Robert Abbett, Sam Savitt and The famous cartoonist Charles Schulz. She was also inspired by caricature artist; Tom Richmond, Steve Silver and Mort Drucker. As a professional caricaturist, portrait artist, cartoonist, illustrator, demonstrator and teacher, Darlene has worked for both catalogue publishing companies and manufacturers throughout the states. Her formal art education was obtained at San Bernardino Valley College, Redlands University, and Scottsdale Artist School. She was employed as a Illustrator and Layout for ten years, and has been a professional artist since 1978, with many commissioned portraits, humorous illustrations and caricatures to her credit.
EXHIBITIONS/TV APPEARANCES
Riverside Art Museum, Riv. CA, The Redlands Art Association. Rdls CA, San Bernardino County Museum, SBdo. CA, Loma Linda Cultural Arts Association LLnda. CA, Art For Heaven's Sake, Rdls. CA, Dream-Builders Art Show, Riv. CA TV APPEARANCES: Destination Downtown Channel 3 SBdo. CA, Talk With The Animals, Chambers Channel 3, Riv. CA MEMBERSHIPS / AFFILIATIONS The Redlands Art Assn. Rdls. CA , Humane Society of Riverside, Rancho Cucamonga and Riverside, CA Riverside Art Museum, Riv. CA Riverside Arts Foundation, Riv. CA San Bernardino, Arts Council, SBdo. CA Loma Linda Cultural Arts Assn. LLnda. CA The National Caricature Network, Burnsville, MN Society of Children's Book Illustrators, West Hills, CA Southern California Cartoonist Society, San Diego, CA Humane Society.